Technical Specifications:
Working Mode

Luminous Flux (LM/meter)

Max Continuous Length

One End Power Feed

Double Ends Power Feed

CV

24VDC

10W/M

2835

144LEDs/m

Ra≥80

120°
Notes:
1.About light color of IP68 Waterproof Neon LED tape
:
(1)"XX" in item numbers stands for different single color: (1) Single color: VW(Very Warm White, 2200K), WW(Warm White, 2700K, 3000K), NW(Neutral White,4000K), PW(Pure White, 5000K), DW(Day White, 5700K), CW(Cool White, 6000~6500K); BL(Blue,465-470nm),GN(Green, 520-525nm), AM(Amber,585-595nm), OR(Orange, 600-610nm), LY(Lemon Yellow, 610-620nm), RD(Red, 620-630nm), PK(Pink, 630-645nm);
(2) TW(Tunable white, optional 2200k+5000K, 3000K+5000K,or Customized);
(3) Multi-color:RGB, RGBW(The Kelvin of "W" available at 2700K, 3000K, 4000K, 5000K, or other).
(4) If the Kelvin or wave length for the color you are looking for is NOT within the above range, please inquire us separately.
2. CV(Constant voltage, means the LED strip is with current-limiting resistor on board in every mini cutting unit); CC(Constant current , which the LED strip is with current-limiting constant current driving IC on board for every minimum cutting unit which enables the working current of each LED is the same and the brightness of the entire run length of the LED neon flex is uniform);
3. Specifications are subjected to change without prior to notice.
IP68 Injection Moulded Connectors for Neon Strip LED Light:

IP67 DIY Snap Type Connectors for Flexible Neon Strip Lights: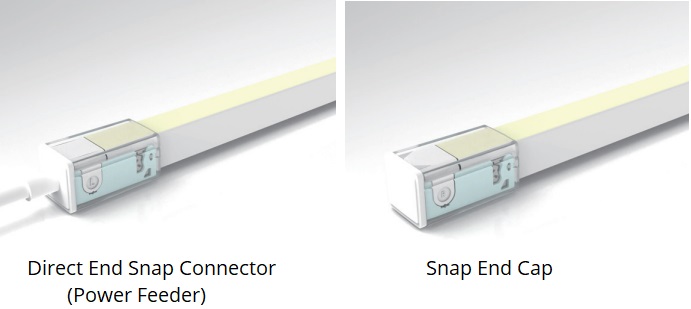 Aluminum Mounting Profile for Neon LED Flex: